Carter's Biggest Baby Sale of the Year: Sets From Just $1.35!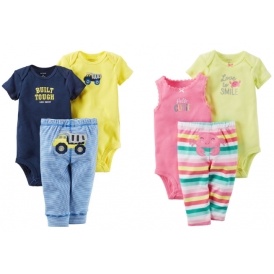 Whoa look what we just spotted! Right now you can score 3 piece bodysuit sets on sale for just $6.60! Saving you $15.60!
But it gets even better if you spend $40 or more you can apply promo code OKBG3271 for an additional 25% off! This makes these sets less then $5!
When Carter's has awesome sales like this it makes me want to shout from the mountain tops. I love Carter's clothing and its my go to choice for baby shower gifts.
Note: If code OKBG3271 doesn't work try any of these codes OKBG3270, OKBG3272, OKBG3275, OKBG3276 or if you spend $100 use code OKBG3274 for 25% off!
These 3 piece sets include 2 bodysuits and a pair of stretchy pants that all coordinate to make 2 different matching outfits.
One of my favorite things about having 2 onesies that both match is you can pack one and wear the other. This way when your baby spits up or you need to change them the onesie will still match and complete their cute outfit.
To maximize your savings purchase $50+ for free shipping plus use promo code OKBG3271 for 25% off. Alternatively choose free in-store pickup to save on shipping.