Huge Kids Shoe Sale From $5.99 @ Zulily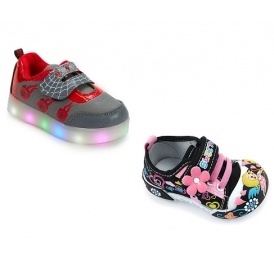 Wow Zulily is having an awesome priced shoe sale. Shoes are priced as low as $5.99 and my favorites the light up shoes are only $10.99. This is a huge score with savings as high as $37 each pair!
I love shoes and cant resist an awesome sale on them. My kids love lightup shoes so as soon as I saw them for only $10.99 I had to grab them a pair up. There is so much to choose from I even got them a pair of sandals for the nice weather.
With nearly 200 styles of shoes the choosing was a bit hard I fell in love with so many different styles. But ultimately I ended up with 2 pairs for them each. They will be thrilled to get them and Im thrilled with the prices.
Free shipping if you checkout with Visa checkout (No Visa card required) or shipping adds $5.95 for the first pair but you get to shop Zulily as much as you want for the next 3 days and still score free shipping after you pay your $5.95. How awesome is that?