Today Only Carter's 2 Piece Sets Under $8 (w/ Code) @ JC Penney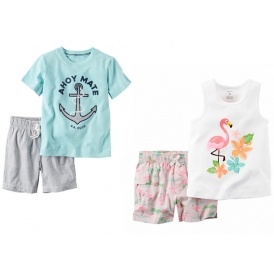 Whose looking for an awesome score on Carter's clothing? We love Carter's and totally love these 2 piece matching sets so I couldn't help but snag up a few for our little princess.
Today Only these 2 piece sets are marked down from $24 to $10 but when you apply promo code 7DEALS they fall down to just $7.50 each!
When you open my princess's closet you will see almost nothing but Carter's. They hold up and look adorable as can be you cant ask for anything better.
These 2 piece sets are cute as a button and with a variety to choose from I couldn't help but to snag up 4 outfits for her. With the hot weather already here she will look and feel cool as can be.
There is plenty of boy outfits to choose from as well. Perfect for the season change and your growing little one. It seems every time I blink my little girl grows out of one size into another.
To save on shipping I spent $25+ and sent my outfits to the store for free pickup.