2-in-1 Cordless Upright Vacuum Cleaner Only $50 (W/ Code) @ Amazon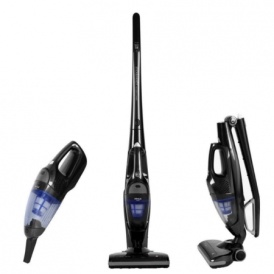 Whoa mommas you are going to want to run on this deal! Right now you can grab this 2-in-1 cordless vacuum cleaner for only $49.99 when you enter promo code V75IP7ZX at checkout.
This saves you half off and is a killer deal that's to awesome to let pass by me. Plus it even includes free shipping for everyone!
This 2-in-1 vacuum is exactly what Im looking for. Im so sick of having to struggle with my heavy vacuum up and down the stairs for every little dirt pile.
Now I won't have to! This vacuum is super lightweight and its even cordless and provides 30 mins of run time per charge. Even sweeter it has a portable small vac pop right out of it so I can vacuum up all those accidents or even the furniture with ease.
Plus it comes with a mount so I can mount this to my wall and my animals or my clumsy self wont trip over it. Even better it works great on both hardwood floors and carpet meaning my whole house can be as clean as a whistle.
This vacuum is truly exciting me and the price has me so happy I could jump for joy. This has to be my favorite purchase of the month and I can't wait to get it here.