2016 Holiday Barbie Dolls Just $9 (reg. $40) @ Walmart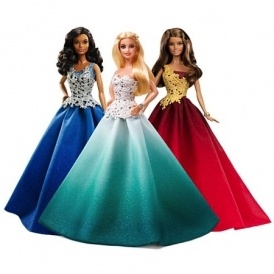 This deal is back! Those elaborate Holiday Barbies that are usually higher priced than what you want to spend are now on Clearance for under ten bucks! You can score these 2016 Holiday Barbie Dolls and 2016 Holiday Barbie Latina Dolls at Walmart right now for just $9.51! They're regularly $40!
These same barbies are selling for $35 at Toys R Us right now so you're not going to find a better price on them! And to be honest, my daughter doesn't know the difference between 2016 or 2017 and if it saves me like $30 by doing it, I'm all for it!
But if you do collect them, this would be a great time to grab your 2016 dolls at a killer price and keep them in their boxes for collecting. You could get both of these dolls for less than the price that one usually is!
These Holiday Barbies have a more glamorous look with a fancy gown perfect for a holiday ball. The blonde Barbie is decked out in a sort of Elsa-inspired look with a blue and snowy white gown. And the Latina doll is all the timeless holiday glam decked out in a red gown with gold.
The Holiday Babies also come in special packaging that looks like a holiday snow globe so not only are they great for gifting but also will look just as pretty sitting on a shelf in their box.
Unfortunately it looks like the 2016 African American Holiday Barbie Doll is all sold out but you can get the Barbie Birthday Wishes African American Doll on sale for just $16.68 right now! It's regularly $22 & up.
You can get free 2-day shipping with an order of $35 or more at Walmart. Otherwise, just choose free in-store pickup to avoid the $5.99 shipping costs altogether if it's available in your area.