3 In 1 Retro Breakfast Maker $36 (w/ Free Shipping) @ Lowes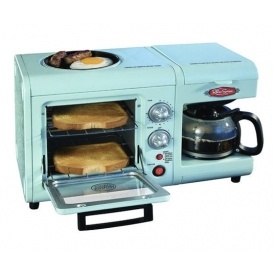 How cool is this retro 3 in 1 breakfast station? This thing has it all, grab a cup of joe, make eggs for the kids and even throw some toast in the mini oven.
Right now these are just $36 at Lowes, everywhere else they're well over $45, I could totally see this becoming my go-to breakfast machine for the kids.
Even sweeter, shipping is free on these or opt for free store pickup if you want and grab it from your local store!
The 3-in-1 Breakfast Station makes a complete breakfast all in one little hub. Make four cups of coffee, throw some eggs and sausages on the griddle and cook a few slices of bread inside the mini oven.
Not only would this be great for moms who are always on the go (which mom isn't) but it also looks like this thing would be super easy cleanup. No more lugging out pots and pans and then have to clean them later. Just remove the top tray from the 3 in 1 breakfast station for easy cleanup.