Beard Christmas Ornaments Only $6 @ Etsy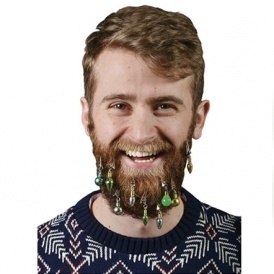 I think we've found the perfect Christmas gift for husbands everywhere! My hubby has been growing a beard for about a year now, I'm totally going to have to grab these hilarious Beard Christmas Ornaments that are only $6 right now on Etsy for the laughs!
What better time to grab them then right before the holiday parties start up so he can wear them to his work party. Right now they're down to just $6 on Etsy which is a steal for what I'll get out of these!
These Beard Christmas Ornaments by Beardaments are made with built in clips that let your bearded beast quickly attach them turning him from a grizzly grinch to one of Santa's jolly helpers! I love how they're all just different bright colors, such a hilarious novelty gift for anyone with a beard.
I seriously don't know who will laugh harder about these, people we see in public, me or the kids. These things will totally bring joy to the world and definitely get laughs in public. What better way to decorate a beard than with beautiful, brightly colored beard ornaments hanging from it?
With Etsy, shipping depends on location but should be just over $4 for these beard ornaments.