Bulls Eye Target Toilet Training Decal $2 + Free Shipping @ Amazon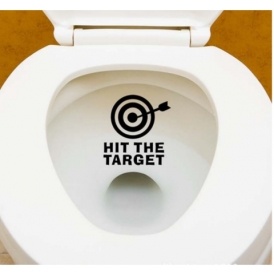 Making potty training fun with this awesome decal helped me potty train my toddler in no time. He thinks this is the greatest and drinks a ton of water just to go use it.
Right now you can grab this decal for 75% off and score one up for just $2.45 plus it ships free for both Amazon prime and non prime members!
Plus as an added bonus this comes with a free glow in the dark light switch cover decal as well! Talk about a bathroom makeover that a toddler loves.
Now if I can get hubby to aim just as well as my little man I will be doing good. This decal has really changed my life so much that I'm purchasing another as a backup. No more surprise bottles or pee all over my house for this momma.
Plus since this ships free for everyone on top of this massive sale you really cant go wrong.