Calico Critters Play Sets Up To 50% Off + Free Shipping @ Zulily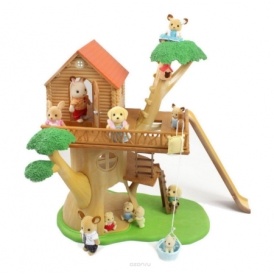 Calico Critters are the cutest critters you will encounter and right now play sets are up to 50% off and perfect for stocking up on for that gift closet.
My kids love Calico Critters! My cousin has been collecting them for years and when the kids saw the perfection they had to have some too.
These cute little critters are made with time, love and care. They are perfect for kids to play with and have a unique design which also makes them perfect for toy collectors.
These play sets come in a huge assortment from a complete luxury town to restaurants, tree houses and more. The kids already have a few smaller sets but since this sale is huge Im grabbing up the luxury town.
They will have hours of fun imaginary playtime with their new town play set. Saving this much on toys they love is a huge plus for me. Even sweeter free shipping makes these play sets make me want to sing out in happiness.