Conair Dual Jet Bath Spa $38.69 (w/ Free Shipping) @ Amazon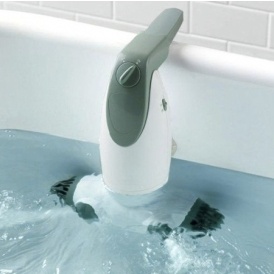 Want to turn your bathtub into an instant spa? Check out this Conair Dual Jet Bath Spa that'll transform any standard tub into a relaxing five star spa!
These are $45 and up everywhere else but for a limited time grab one from Amazon for just $39.99 with free shipping!
The Conair Dual Jet Bath Spa is a portable attachment that you can attach to any bath tub and instantly the tub will feel like a hot tub with water flowing and bubbles everywhere.

It's easy to use to just pop it on the edge of your tub with suction cups that'll hold it in place and you'll be able to adjust it to fit your needs and get the relaxation you deserve out of your boring ol' tub! It also has a switch on it so you can choose how much bubbles you want and intensity levels.
I'm grabbing this for myself, but really I know the kids are going to love it. Everytime they're around a hot tub they just have to get in. I like how I can keep the water cool and they'll get the hot tub feel with this attachment!