Crayola Essentials Up To 68% Off Today @ Amazon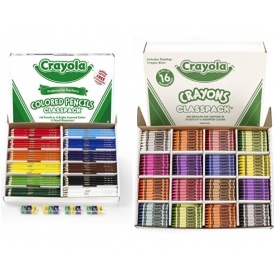 Hop over to Amazon where today they are offering huge markdowns on bulk items of Crayola. We spotted back to school packs, marker bulk packs and more up to 50% off.
This is the deal teachers won't want to miss. You'll be able to score some sweet deals on classroom essentials in bulk deeply discounted today here:
I love when the Crayola Back To School kits are on sale. It's nice to buy one mega pack of all the Crayola essentials you'll need for your little one as opposed to going to every store one by one and checking the items off the list at the best price, a bit more of a hassle.
There are a bunch of bulk items marked down, Glitter Glue, bulk packs of 16 count crayons, they also have mega packs of my first crayons, markers, colored pencils you name it. Here's the roundup: