Diggin Active Skootcase Ride-On $69.99 @ Overstock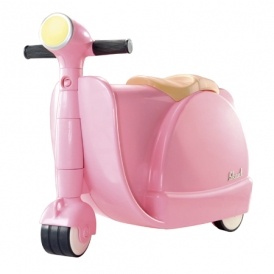 My daughters been wanting her own suitcase and while I'd love for her to have her own, she's still pretty young to lug around a suitcase, so I took a look of what was out there.

I spotted this Diggin Active Skootcase Ride-On and fell in love!
It's a little pricey but usually these go for around $100 so grabbing one $30 off retail is still a sweet deal. Plus she'll love riding on this suitcase like it's her scooter!
I won't lie, I went with this because of the wheels. When she's all tired out from riding on it, this will be easy to tag along with us since it has wheels. Plus it fits perfect in the overhead.
The amount of laughs we'll have while she's riding this makes this worth it!
The best part is with Overstock you get FREE standard shipping which makes this deal even better.