Extra 40% Off Sale Styles + Free Expandable Tote Offer @ Vera Bradley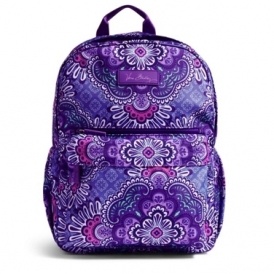 For two days only (today and tomorrow) Vera Bradley is having a huge sale where you can score an extra 40% Off On ALL Sale Styles! No promo code is needed - the discount will be automatically applied in cart. Plus shipping is free on all orders too!
I have been waiting for the Lilac Tapestry print to hit a good deal because I was wanting that so bad for my daughter's backpack and lunch tote this year. So I settled for a cheap backpack set for now until it happened. Well it happened! (And not too far into the new school year either)!
My Lighten Up Just Right Backpack (regularly $88) is on sale for $61.60 and with the extra 40% off, it becomes just $36.96! Plus the matching Lunch Sack (regularly $34) is marked down to $23.80 so with the extra 40% off, it's just $14.28!
And there are soon many more styles, bags, accessories and more included in this extra 40% off offer. So definitely take a minute to browse around because I have no doubt you'll find lots to love and love even more at these prices!
Plus if you spend $125 or more you'll get a Free Lighten Up Expandable Tote! It's regularly $88! Once your cart reaches $125, the Free Gift will be automatically added but you'll need to toggle the "Choose Gift" button in your cart to select your favorite color (yes, you even get to choose). There are nine different color options available for this bag.