Free Jar of Country Chic Paint @ Country Chic Paint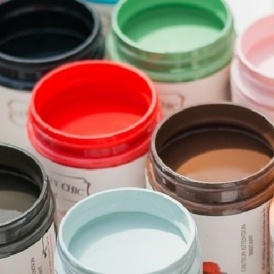 If you haven't chalk-painted a piece of furniture yet then you're really missing out on a way to bring life to old or even second-hand pieces. Top designers use the heck out of this stuff and in their design schemes for a timeless shabby chic or bright and new look that compliments every design style from modern and mid-century and contemporary to country or classic thanks to the variety of colors they come in. And this stuff is fuss-free and durable. I've done several pieces both for my own home and in the shop and everything has held up so well. (And not having to sand everything down first it makes these projects a breeze)
There are so many brands to choose from (and some people even make it themselves) but some can get pretty pricey. That's why this deal is pretty amazing. Right now Country Chic Paint is giving away a FREE JAR of their paint at participating retailers! This free jar should be plenty enough to help you refinish an accent table or chair.
To get your free jar of Country Chic Paint simply sign up through their website here and receive your coupon via email. Print that out or just save it on your phone and take it to a participating retailer near you. They have participating stores in every state and you can find your closest retailer here.
(Oh and if you love their products you can also order online and pay flat $6.95 shipping on all orders).
Cheers to freebies...and getting that old accent table revived with a new life as fast as you can sip a glass of wine!