Hamilton Beach Breakfast Burrito Maker just $16 @ Walmart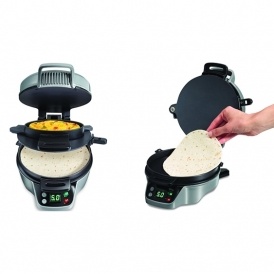 Want a fun idea for breakfast instead of the same old bacon and eggs? How about breakfast burritos! Kids love these handheld wraps of goodness and another perk is everyone can customize their own - Dad and his bacon and hot jalapeños, mom's spinach and mushrooms, and lots of bell peppers and cheese for the kiddos.
And if you head over to Walmart you can score this highly-rated Hamilton Beach Breakfast Burrito Maker for just $16 + Free In-Store Pickup! This thing is regularly priced at $39.96 so that's over $20 in savings!
Makes perfect burritos ready in five minutes so you can shorten your morning routine, cut down on all those pots and pans you usually dirty and you'll have some fun time in the kitchen with your family making them! Win/win!
If you have any other items on your list you can also get free shipping right to your door with orders of $50 or more. Right now Walmart is also doing their Warehouse Clean-out Sale so I'm sure it won't be hard to find plenty of other things you didn't know you needed. ;)