Hot Wheels Fun In The Tub Bathtime Playset Only $30 @ Amazon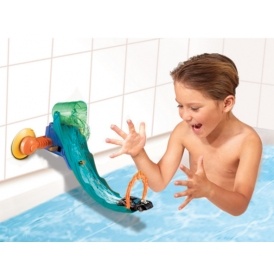 Whoa Hot Wheels meets the water with a fun new twist! Its a bath time set that is sure to make your little ones enjoy the water.
Plus while nearly impossible to find anywhere else right now you can score this set for just $29.99 at Amazon.
The next shipment of these will be available November 8th for shipping. But you can order now and it will ship on the 8th.
This set has suction cups which securely keep it on your tub. Then fill the cup with water until it flips and takes the car rolling through the flames off off the jump into the water.
This is sure to make every child completely excited and comes with everything you need to get playing including one Hot Wheels car. However just about all Hot Wheels cars will fit making bath time a completely fun time with an assortment of cars.
To top off this amazing find it ships completely free for both Amazon prime and non prime members.