JoJo Siwa Singing Doll In-Stock And Only $20 @ Walmart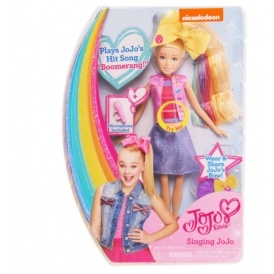 JoJo Siwa is a new huge hit and all her dolls have been flying off the shelves and nearly impossible to get your hands on making it sure to become even worst once we get closer to Christmas.
Right now Walmart is in stock and she is at retail price of just $19.88! eBay already has her going for double price so now is the time to buy.
It's JoJo with the bow-bow and she sings her huge hit song Boomerang! This is sure to be on so many children's Christmas list and Im grabbing one while I can get the retail price.

My little girl is a huge JoJo fan and talks about her non stop she is going to be thrilled when she wakes up Christmas morning to her very own singing JoJo doll. I expect huge screams while jumping up and down.
Plus this JoJo doll also has posable legs are arms for a fun imaginative time. Even sweeter she comes with a microphone and hair brush so your little one can style her beautiful blonde hair as she plays.
To save on shipping I opted for free in-store pickup but you can also score free shipping with a $35+ purchase.