Koozie Neoprene 6-Pack Insulated Beverage Holder FREE (Just Pay Shipping) @ 13 Deals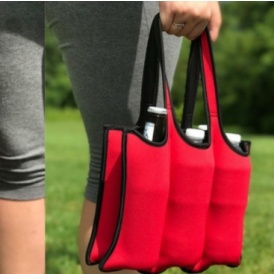 What's better than Free?! Head over to 13 Deals where right now you can get this Koozie Neoprene 6-Pack Beverage Holder for FREE! Just pay the $5.49 shipping. It's regularly $18 and the cheapest I could find it elsewhere was for $10+ not including any shipping so this is at least a half off deal when you factor in that all you're paying is the five dollar shipping.
When it comes to holding beverages, Koozie is already a household name. And this 6-Pack tote bag will hold up to 6 bottles of your favorite beverage with ease and keep them cold for up to 4 hours! So whether it's water, beer, wine, soda, whatever, it's got you covered.
This is a great item for tailgating or hanging out watching the game with friends when you don't want to load up a whole cooler for just a few beers. Or if you have book club and want to carry a few bottles of wine this 9x12 neoprene bag with handles is just right.
Check out some of the other freebie deals you can score from 13 Deals today too!