Mr. Tea Infuser Just $3.28 Shipped @ Amazon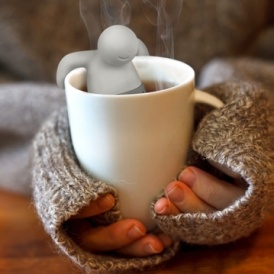 This is adorable don't you think, mom?
I love my caffeine in the morning, but at night when I am trying to avoid the thinking train from keeping me up until the wee hours of the night, I try to avoid the coffee and sip on some herbal tea instead.
Well, right now on Amazon.com you can score this Fred and Friends MR. TEA Silicone Tea Infuser for just $3.28 as an add-on item plus get free shipping when you spend $25 or more on any items shipped by Amazon.com ($35.00 if you're not an Amazon Prime member).
Regular retail price for this item is around $10.95 so this is a pretty awesome score for all of us tea sipping mamas seeking zen.

And if MR. TEA isn't your cup of tea, you can also score the Deep Tea Diver for just $3.82 or Manatea (ummm, super cute!) for just $5.99!