Nerf Modulus Recon Battlescout $50 (Was $79.99) @ Amazon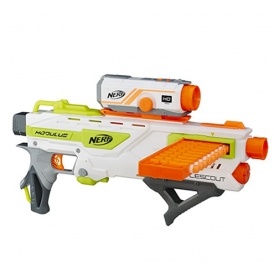 Amazon has dropped the price on this Nerf Modulus Recon Battlescout down to just $50 right now, these usually go for $80 so grabbing it $30 off retail is a sweet buy!
The Battlescout Blaster comes with an HD camera (think GoPro for kids) and 10 elite darts for pump action blasting! You'll also need an SD card for this Nerf Blaster.
A Nerf gun with a camera on it!? What will they come up with next! I really can't think of a better toy to throw a camera on that the kids will go nuts over than a Nerf gun. This looks like so much fun just for the recording part this'll add to Nerf Battles!
Suitable for children ages 8 and over. Plus — these qualify for free shipping on Amazon.