Patagonia Snap-T Fleece Pullover Only $45 (Reg. $99) @ Backcountry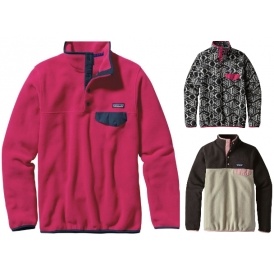 Anyone else love everything that Patagonia has to offer? Yup, us too. All of their stuff is so cute but can be a little pricey, so grabbing something at a great price is always a bonus.
For a limited time, hop over to Back Country where you can score a super rare deal on one of these Patagonia Pullovers and grab one for just $45 (regularly $99) what a great price!
You'll want to toggle to pink to get the price you need the Craft Pink is down to $45, the Pelican/Ink Black is $64 also the Nick/Galah Green (which is super cute) is down to $55 which I just love I think I'm going to be grabbing this one, it's so cute (it's pictured above too the green one).
I seriously am always looking for great deals on Patagonia and North Face. Whenever I find a killer deal I grab it quick because really a deal like this just won't last. With how quality this stuff is (and also how popular) this stuff will go fast so you'll want to grab your size while it's available.
At just $45 for the lowest priced one this is a great bargain. As always with Patagonia, shipping is free on order of $50 or more.