Pumpkin Masters Glow In The Dark Pumpkin Carving Kit $5 @ Amazon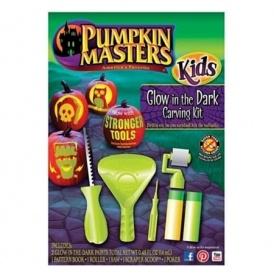 Halloween is almost here and pumpkin carving is upon us which makes me totally excited we just spotted the Halloween carving kit that my family is going to love.
Plus it comes with glow in the dark paint to complete your pumpkin and its priced at just $5 for the kit!
This kit is a pumpkin carvers dream come true it includes the pattern book, 2 glow in the dark paints, roller, saw, pumpkin seed scooper, a poker and of course instructions.
it includes everything you need to make a pumpkin that will have everyone loving and complimenting it. Plus there is a ton of patterns so each of my family can have their own special pumpkin all from one kit!
Amazon prime members will score free 2 day shipping while non members can snag free shipping with a $25+ purchase.