Step2 Thomas the Tank Engine Up & Down Coaster $69 Shipped @ Amazon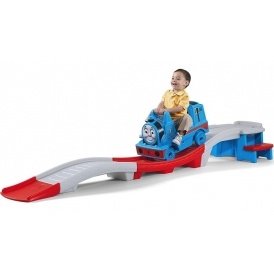 This is the lowest price on this Step2 Thomas The Tank Engine Up & Down Coaster! Head over to Amazon and score it for $68.99 with free shipping whether you have Prime or not. It's regularly $79 and up. It's actually selling for $142 at Kohl's, $110 at JCP and $88 at Sam's and Walmart! So this is definitely a great price!
Who doesn't love Thomas the Train? I have to admit, I caught myself singing along whenever it came on TV. And now the kids can jump on board and have some real fun with Thomas.
This adorable little coaster features a Thomas tank engine coaster car with a high-back seat, hand rail and foot rests. It has non-slip steps on both sides of the track and the track itself is a rolling nine feet of up and down fun.
Safety is always my main concern. And with recessed wheels to make sure it keeps the car in place until they're ready to roll too they'll safely be able to enjoy their very own little roller coaster right at home (and probably for hours on end).
This is a great outdoor toy but also just as fun inside when the weather isn't so great or over the winter months. You could easily set it up in their play room, bedroom, family room or garage to keep the coaster fun going all year long!