The countdown to Christmas is in full swing! Stores have begun releasing all of their Christmas decorations and we've already started sharing some of the funniest Christmas inflatables we've seen.
But we haven't seen anything quite like this one...
Hammacher and Schlemmer just released one of the craziest Christmas inflatables we've ever seen, a gigantic Frosty that actually plays clips from the real movie! If you're looking to go really, really big this year or are just a huge Frosty fan, you have to hop over and check this thing out, it's insane.
This isn't just the biggest inflatable we've seen, standing at ten feet tall, but he also plays clips from the movie and has a sign that lights up with messages like 'Tis The Season to be Freezin' and 'Lets Have a Parade'.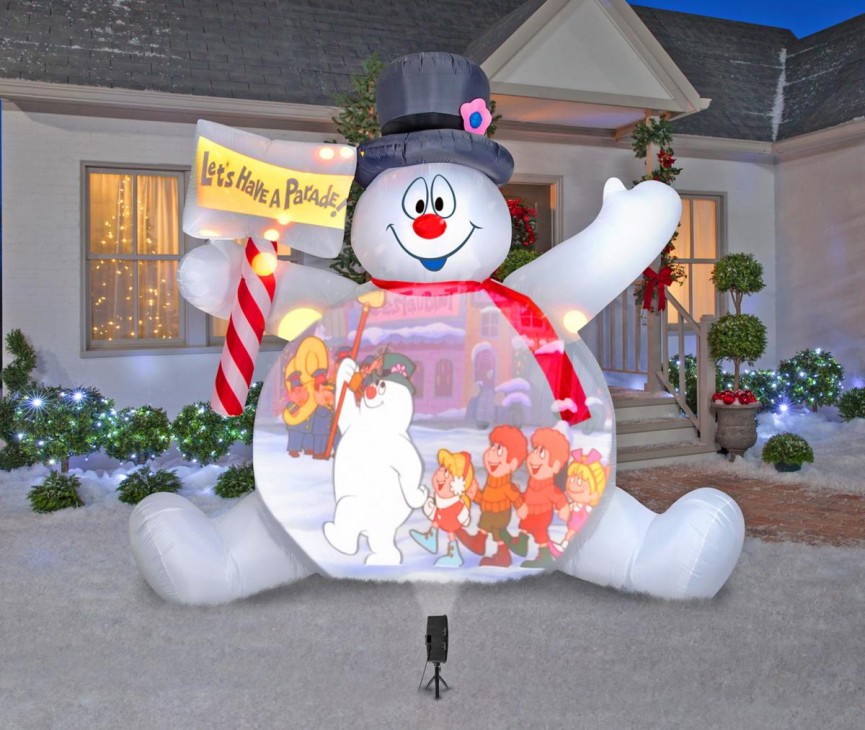 Giant Frosty is a Hammacher Schlemmer exclusive, you won't be able to get this one at Home Depot or Lowes this year. And it has a projector, that projects right on to Frosty to play clips from the 1969 classic.
It's really a neat concept, especially with how in the movie Frosty is known for entertaining the neighborhood kids, this thing will surely have the kids excited to want to go home and watch Frosty.
Giant Frosty stands 10 feet tall and the projector plays scenes from the movie with alternating messages on his candy cane sign from an included SD card right onto his torso.
If you're looking to go big this year, I mean really big, this Christmas inflatable would be a huge addition.
Wanna see it in action? Check out the video below...
This bad boy has a built in air pump that brings Frosty to life and comes with eight stakes and four tethers that'll keep Frosty safe and secure through any winter storm.
It even says giant Frosty can withstand snow and wind thanks to his heavy duty polyester build. Oh and just in case, it has a lifetime guarantee in case something did happen to our beloved Frosty.
If you're more subtle with your decorations but still love you some Frosty, check out the Kids Felt Frosty your little one can put together while you guys watch Frosty this year, you can find it streaming on YouTube here.
But if you're a huge Frosty fan and looking to go big this year then this is the inflatable for you. Who knows, you might be able to find out which neighbors have the same love for Frosty that you do!
Sign up for our newsletter
Get more deals from Mom Deals with our daily newsletter