Wanting to make some Lasagna this holiday season? You'll want to hop over and check out this awesome Trio Lasagna Pan that has some really great reviews over on Amazon, with this sweet pan you'll be able to make three different lasagnas, breads, cakes and more, at the exact same time!
Cooking for a crowd can be complicated, especially around the holidays. This genius invention makes creating dishes for several different eaters, simple and easy to do. I just love the concept of a pan like this.
First I was skeptical, a pan that has one use? What for? Then I checked out the reviews, and while many use this just for lasagna, that's not all it's good for, there's so many things you can make with it.
Make brownies, meat loaf, cakes, loaves of bread and get creative. Plus, it has some crazy good reviews, it's actually rated 4.5 stars out of 5 on Amazon and after going through the reviews, customers love it.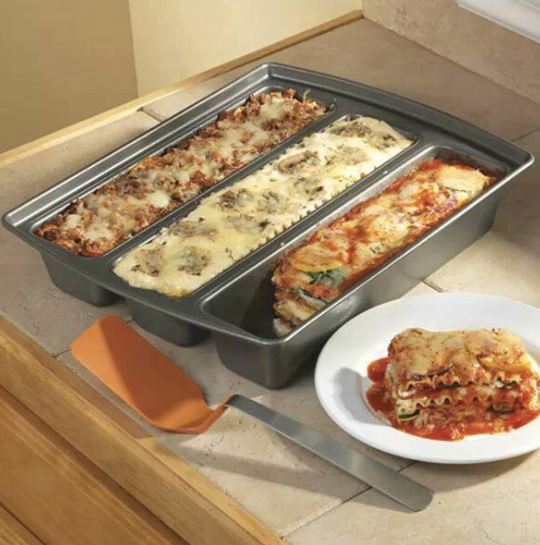 The pan measures 13 by 9 by 1-1/2-inch with each loaf being 3-1/2 by 1-1/2-inch high and the heat is safe up to 450 degrees, and it's also dishwasher safe but they recommend to hand wash.

As always with Amazon, free shipping at $25 or sign up for a FREE trial of Amazon Prime!
Sign up for our newsletter
Get more deals from Mom Deals with our daily newsletter