Today Only! Mermaid Tail and Shark Blankets Just $7.49 (reg. $20) @ Zulily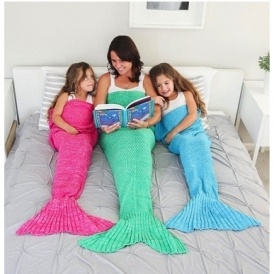 Quick! Today only at Zulily they've got a great deal on Seaside Snugglers and you can score these Heart to Heart Mermaid Tail and Shark Blankets for just $7.49! They're regularly $20 so that's a nice 60% discount and a great time to grab a few for Christmas presents!
Click here to grab your Mermaid Tail and Shark Blankets @ Zulily
NOTE: Since Zulily is a members-only site, you may have to be logged in to your Zulily account for this link to work.
Who doesn't love these blankets?! And I love that they're coming right from Zulily and not some unknown source or a website that doesn't have a ton of great feedback. Plus with it including both the mermaid and shark styles, you can score them for each of your kids boys and girls at a great price!
These blankets come in both Kid and Adult sizes and have seven different styles to choose from.
Shipping is just $5.95 and lasts for 24 hours so you can place multiple orders on today's great deals with free shipping!
And if you don't already have a Zulily account, it's free to sign up and you can start enjoying all of their daily deals on everything moms love for themselves, their kids, their house and their family. They have featured deals every day and lots of great savings.