Toilet Trouble Game $16 @ Walmart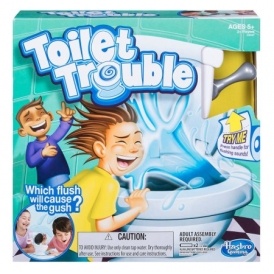 My kids saw this game last night on TV and they went bonkers with laughing and we all agreed we had to have it!
In this game players spin the toilet paper and flush the toilet in hopes not to get sprayed with icky toilet water. Who will the wet looser be? Priced right now at $15.99 saving you $3.99 now is the time to get this new game and save some cash.
The kids love icky games and I have to admit this one looks too fun and is sure to bring in tons of laughs as the whole family plays together.
Instead of having a dice that always gets lost this game uses the toilet paper like a dice. You spin it to see just how many times you flush the toilet. If you hear the water flush your safe and good to go, but when there is no sound you get the great sound of laughter as your sprayed in the face and eliminated.
I can see this becoming our new family game night favorite and its going to be perfect to hold my little ones attention while also providing the whole family with a fun game we all can enjoy.
To save on shipping I opted for free in-store pickup, alternatively you can also score free shipping with a $35+ purchase.