VTech Kidizoom Selfie Cam Only $60 @ Amazon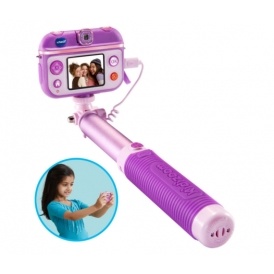 The kids are going to love this! Its a VTech Kidizoom selfie cam and it even comes with a selfie stick and picture software.
While sold out nearly everywhere you can get this awesome camera at Amazon right now for just $59.99!
No more handing over my highly expensive smart phone so the kids can take a million photos. Now they will have their own camera to take all the photos they want.
Plus it even comes with picture software that can add wigs, eye shadow, accessories, frames and a ton more. This is sure to keep the kids entertained and happy, it can even work as a selfie cam or a regular camera.
To top it all off it even takes video and is rechargable! This camera itself can store up to 600 photos or you can add in a sd card to add to the memory and make it 1000's. Talk about a score, Im too excited to see their face when they open this.
Even sweeter it ships free for both Amazon prime and non prime members!