Summer is coming and what better time to grab a swing set on clearance!?
Right now Walmart and a few other stores have a bunch of swing sets that are on clearance including wooden swing sets clearance and some of them are too good you'll want to check all of them out!
We're gathering all the best swing sets on clearance right now for those looking with the weather starting to heat up, some of these are 33% off some are even a few hundred dollars off the retail price!
We'll include the clearance swing set price as well as the Amazon price so you can compare and see how much you're savings on these swing sets, we'll also break down the features of the sets as well.
Kidkraft Windale Wooden Cedar Swing Set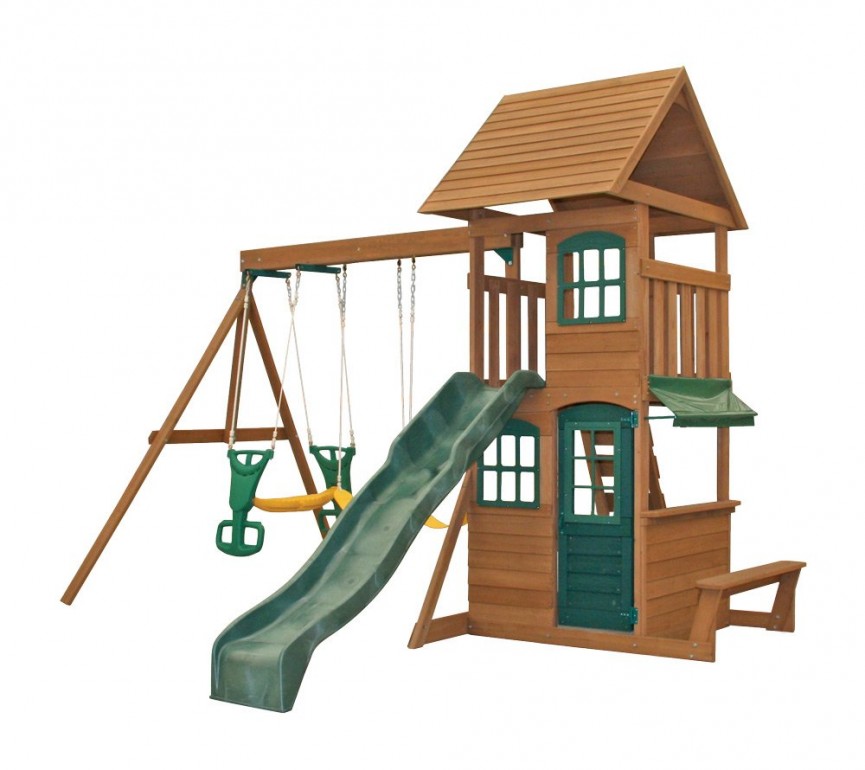 The Windale Wooden Cedar Swing set is the perfect activity area for around nine children at once. Inside you'll find a rock wall, a table with bench, two swings, a little club house and even an outside bench for resting.
If you're looking for a biggest swing set at a great price, this would be perfect for big backyards. The best thing is you're grabbing it for 30% off the normal price at just $449! That's a great price for this swing set.
KidKraft Ainsley Wooden Swing Set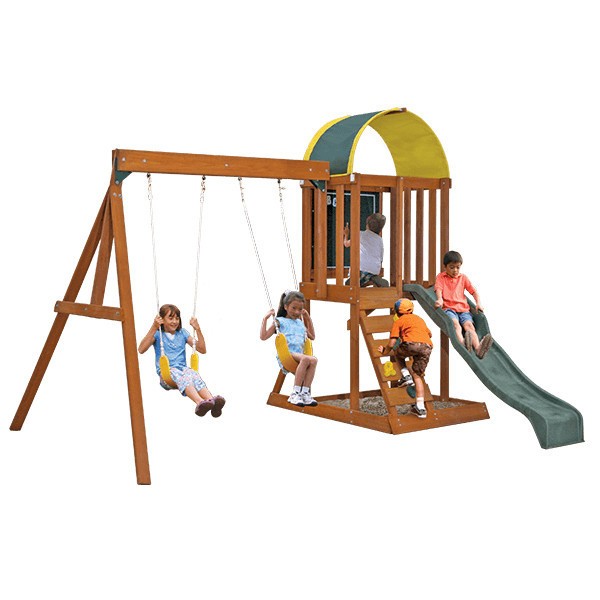 If you're looking for wooden sets on clearance check out the KidKraft Ainsley Wooden Swing Set from Walmart. This swing set is perfect for smaller to medium sized backyards and ideal for about six active kids at once!.
There's a bunch of features too, included is a wave slide, a rock wall, a clubhouse with a chalkboard and a tarp overtop and even a spacious sandbox. You can grab this swing set now for just $279 and you'll be saving $120 on this popular swing set, what a nice savings you can grab online or in-store at Walmart.
Backyard Discovery Cedar Wooden Swing Set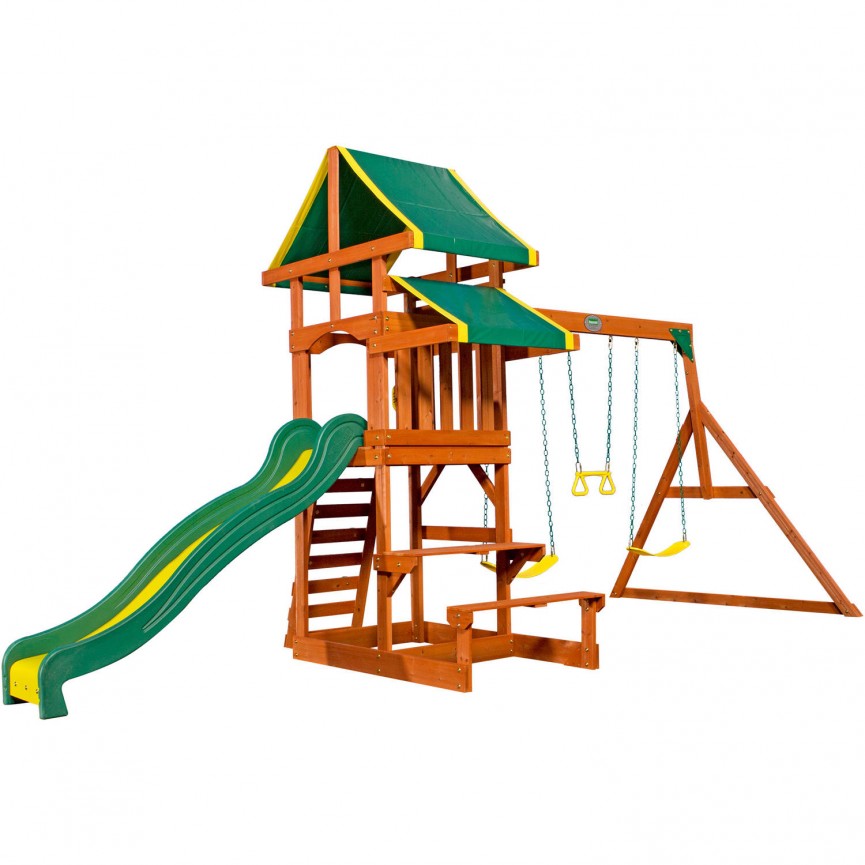 Looking for something a little bigger? Consider the Backyard Discovery Tucson Cedar Wooden Swing Set that's available now on clearance at Walmart for $359. Regularly $499 this makes for a huge savings!

This set features an 8 foot slide, two belt swings, an acrobat bar, a sand box and an activity table that would be perfect for picnics. The best part is the price, grab it now before summer gets here while it's 33% off.
Backyard Discovery Montpelier Wooden Set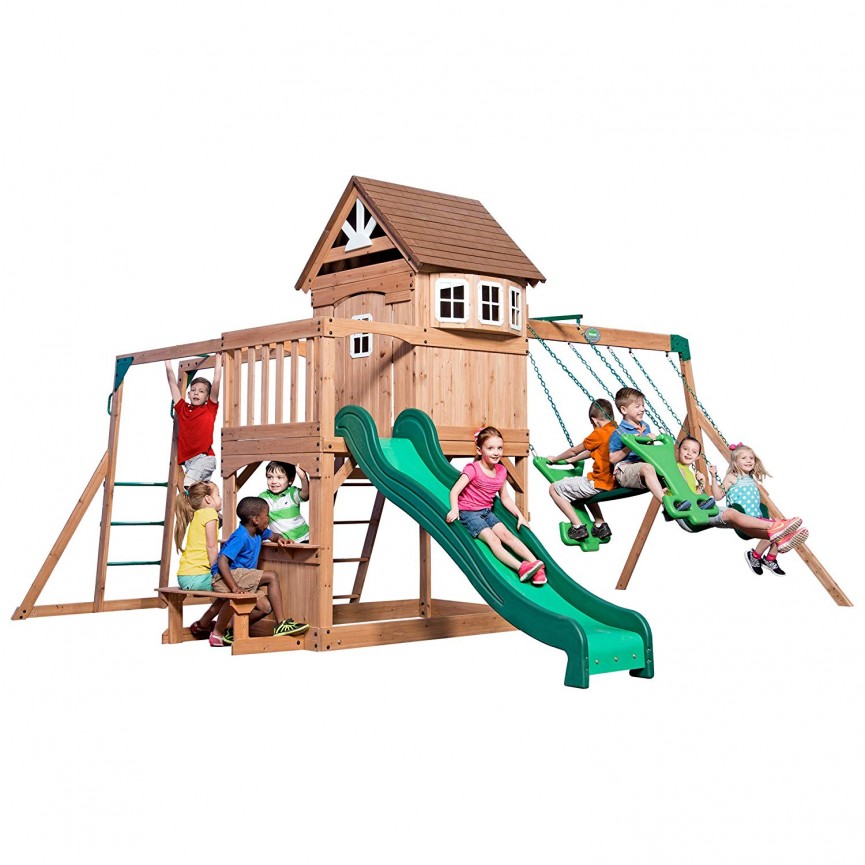 Wow how cool is this? If you're looking for a big play set on clearance consider this cedar wooden swing set which has an awesome clubhouse inside with a door windows and plenty of space for activities!
There also a ton of features this wooden playset has included a slide, monkey bars, a sandbox, a bench, a ladder, swings and even a two person glider that's always a ton of fun. It also has a cute little window down the bottom that's perfect for pretend play. Grab it while it's $100 off the normal price while you can!
Sign up for our newsletter
Get more deals from Mom Deals with our daily newsletter