Did you know that LEGO actually offers free LEGO replacement parts?
If not, don't fret, many don't know about this. But turns out, you can do it right from their website too.
If you're a parent you've probably been there. It's late; You're making your way through the house and crunch— you step on a LEGO.
There is no pain greater than stepping on a LEGO, I'm convinced.
Fortunately for most bricks, they're like invincible or something.
Unlike your foot which feels like it's just been impaled by a sword.
But every now and then, those little LEGO bricks can crack or just go missing, which is always the likelier case for my kids.
That's why we'll be showing you how to get free lego parts:
See also: LEGO Magazine: How To Get The Free LEGO Life Magazine
Free LEGO Replacement Parts
LEGO is king when it comes to building toys for kids.
So obviously with being so popular, they know to keep their top spot they have to make us parents happy.
Makes sense right!?
The good thing is we can get Free LEGO Replacement Parts right on their website.
So we don't have to keep buying new sets for pieces that go missing and get new ones piece by piece?
Sign me up!
It's actually super easy too, here's how:
1. Go to the 'Bricks & Pieces' LEGO replacement parts page

First, go visit LEGO's Bricks & Pieces replacement parts site where you can begin your request for free LEGO Replacement Parts on just about any set.
2. Pick reason for getting free LEGO replacement parts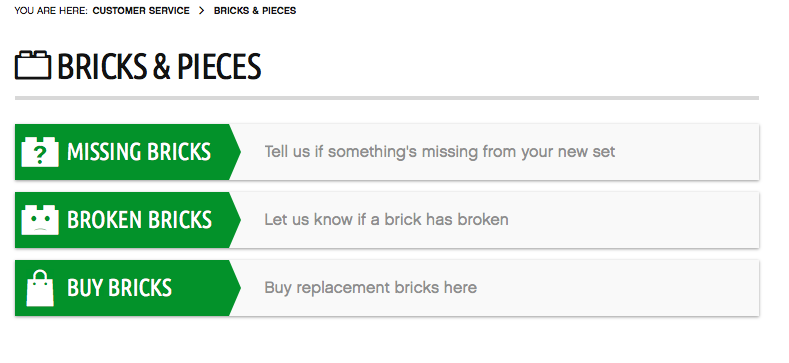 You can choose from replacing a broken piece, receiving a missing piece, or buying replacements. Whichever you choose, it only takes a second.
3. Enter your age and country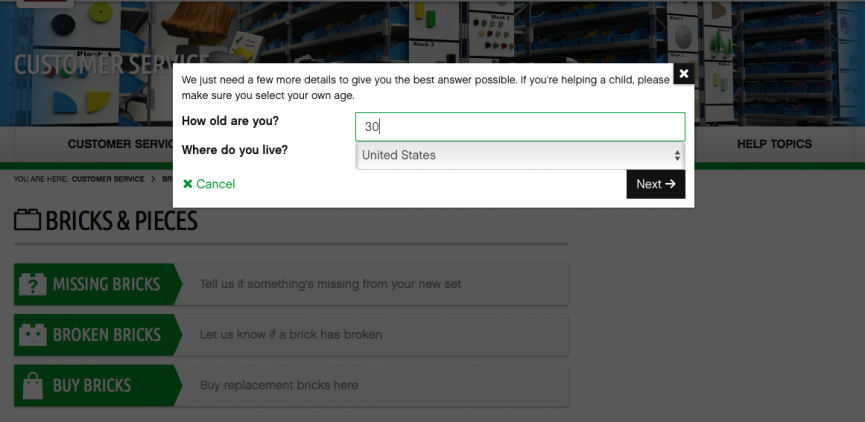 Simple as that. It'll prompt you to enter your age and where you live. Just pop in your age and location (your country) to keep things moving.
4. Enter your LEGO set number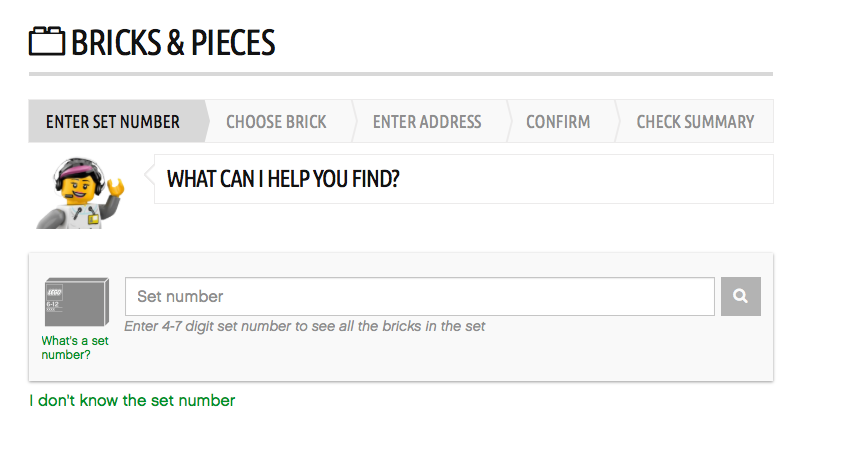 These numbers are found right on the front of your LEGO box.
Not sure the numbers or lost the box?
No worries. You can just describe the set and the pieces you need and they should be able to find it for you — actually makes things much easier.
5. Pick your free replacement parts!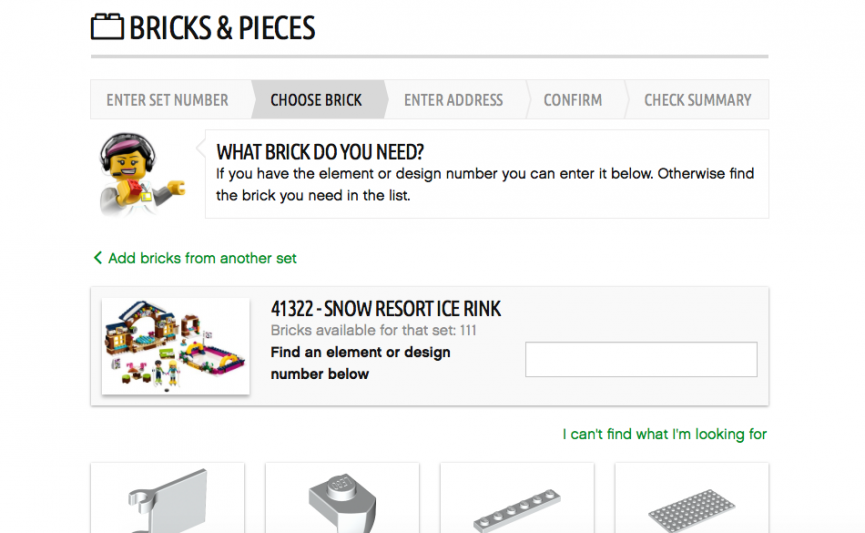 Once your set is determined, it will give you a complete list of LEGO pieces names and parts that can be requested for that set.
If you still have the booklet from your set you can match with the part numbers for each piece that are indexed in the back of the booklet in the LEGO pieces list.
6. Add the new parts to your cart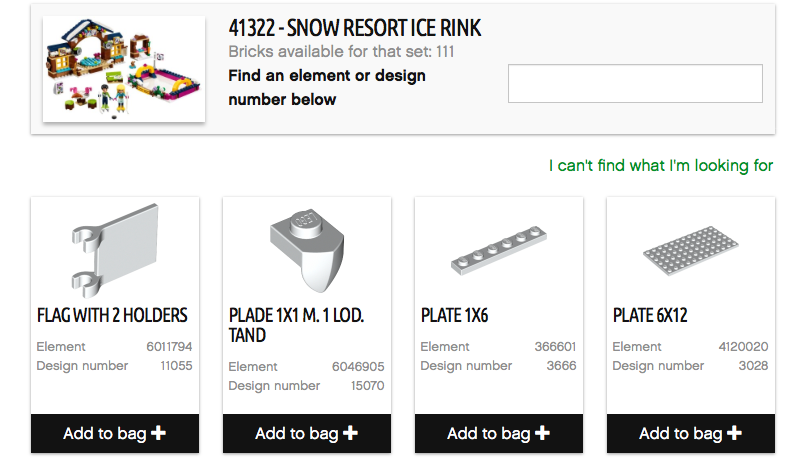 As you add any items to your cart from the list of replacement parts you'll be prompted to add an explain as to why you're needing this piece.
The best part:
It doesn't have to be anything super detailed. I actually just listed "broken" in that box.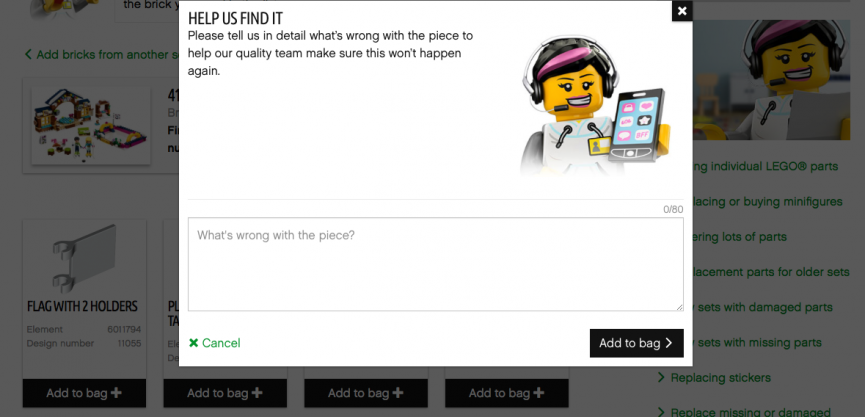 7. Checkout with replacement parts!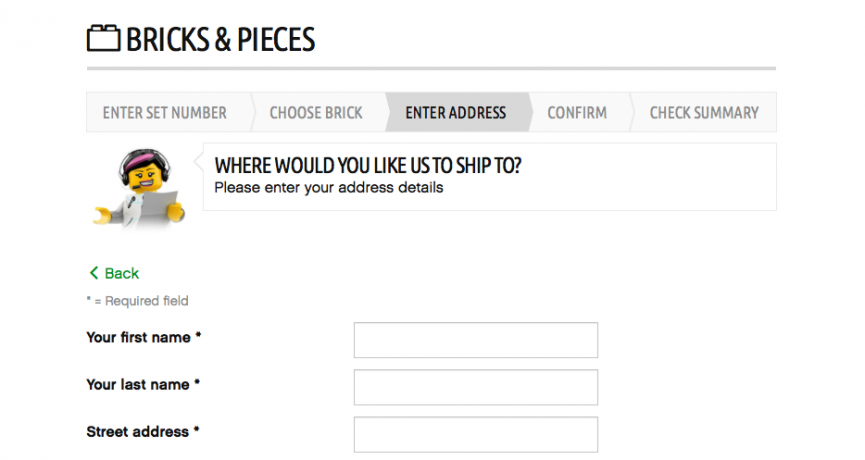 Just enter your name and shipping information and review your request summary.
If all looks good, hit submit! That's it!
Once your set has been located and the part you need, they will ship your order out straight from their headquarters (in Denmark) and will arrive in approximately 7-10 business days!
Making old LEGO sets new again with new replacement parts:
The beauty of this site is that they have literally just about everything. From old sets to new and even replacement LEGO stickers!
My kid went hog wild with their first LEGO stickers sheet and had them all jacked up and removing them ended up ripping a few.
With a few easy clicks and an explanation on the LEGO Replacement Parts site, we had brand new stickers in-hand super fast.
LEGO Replacement Parts FAQs
Q: How Much Do Replacement LEGO Parts Cost?
A: If your piece is broken or missing from a set most of these are replaced for FREE!
Now, I wouldn't go in expecting to have them recreate an entire 500+ piece set because you can only find two pieces now.
But for the most part it's relatively easy and free to get your replacement pieces.
Q: Do they have replacement parts for all LEGO sets?
A: Just about! While you can pretty much guarantee that a part for your LEGO set that's within a couple years of age will be available, they also have archived set pieces available too.
So even if your LEGO is pretty old, it's worth a shot to check!
Q: Can I get replacement parts even if I didn't buy the LEGO set new?
A: Absolutely! You don't have to show any proof of purchase to submit a Bricks & Pieces Replacement Parts request.
LEGO's make great gifts and there's no way you could have every receipt for these sets when your kids may get several different ones from several people around the holidays or birthdays!
LEGO understands that and makes this whole replacement parts process super easy on you.
Q: What if a new LEGO set is missing a piece?
A: While it's not a common thing to find, it happens from time to time when some LEGO sets have several hundreds of pieces.
So just like with any other replacement part request, you just list your reason on the site as being that your new set had pieces missing. LEGO will definitely make it right!
Q: How long will it take for my LEGO replacement parts to arrive?
Bricks & Pieces replacement parts orders are shipped straight from the LEGO headquarters in Denmark. Delivery to the U.S. is through DHL and takes 7-10 business days. Delivery to Canada takes about 10-14 days. Delivery times to other countries can be found here.

Q: Where can I find deals on LEGO sets?
A: Mom Deals is always featuring the best deals we spot on LEGO items.
And not just LEGO sets but also items that are compatible like wall brick plates, tables, and other cool items that make life with LEGO's much less stressful.
Bonus: LEGO Proofing Tips
All is right with the world once again. Now you can continue to enjoy the sheer and utter pain when you forget to step into a pair of slippers before braving the halls at night.
But hey, if you do want to minimize your foot injuries and perhaps maintain your ability to walk for a little longer in life, get yourself some LEGO gear that will help in that department!
LEGO Tables
We love these great LEGO compatible tables that feature brick-plate tabletops and a center bin that keeps all those lovely little pieces stored up tight and off the floor when your child isn't playing with them.
KidKraft Activity Table With Board (reg. $97)
Tot Tutors Kids 2-in-1 Plastic LEGO Compatible Table w/ 2 Chairs (reg. $77)
LEGO Mats
Or even these LEGO play mats that act as a giant cinch-sack when your child is done playing with them, scooping them all up into a nice drawstring bundle and getting them out of harm's way.
LEGO Storage Floor Activity Mat Cinch Sack
60 Childrens Floor Mat Portable Storage LEGO Cinch Sack
LEGO Brick Plate Wall Decals
Looking to get the LEGOs off the floor? Try going vertical with them! With peel and stick baseplates and LEGO tape, your kids can build all their creations right out of the wall!
LEGO Self-Adhesive Tape Roll 6 Pack
LEGO Peel-And-Stick Baseplates 4 Pack
Safety Gear
And at the end of the day, nothing (and I mean NOTHING) beats a good old pair of slippers!
Your turn: Have you tried ordering free LEGO replacement parts? If so let us know how it went, how long did it take for them to arrive? We'd love to hear from you.
Sign up for our newsletter
Get more awesome freebies from us when you sign up for our newsletter