Sam's Club Membership + Free $25 Gift Card + Free Pizza AND Cookies ONLY $45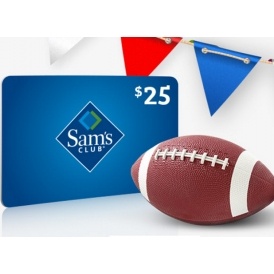 Right now Sam's Club is offering a great deal for new members to sign up! You can get a 1-Year Sam's Club Membership plus a $25 Gift Card, Large Pizza, and 18-Count Cookies all for only $45!
Every new year my resolution is to beat the year before in savings. One of the best ways to do that is a big box club store like Sam's or Costco. And when they offer their memberships at a sale price with extra incentives that's the time to seal the deal.
Sam's Club memberships vary and this level is typically $55 per year without any of the extra goodies. But when you sign up now as a new member, you not only get the 1-year membership for $45 but you also get all sorts of extras.
You can also choose between the Business or Savings plan memberships. Here's a run down of everything that's included in this $45 offer!

1-Year Sam's Club Membership
$25 Sam's Club Gift Card
16" Take 'n Bake Pizza (Pepperoni or Cheese)
18-Count Daily Chef Cookies (Chocolate Chunk)
The gift card isn't mailed to you either. It's given to you right when you finish enrollment at the store. All you have to do is start the process online and then take your confirmation to the store where they will finish by setting you up with your photo club ID.

So basically you finish your enrollment at the store and then get your gift card and dinner to-go with the pizza and cookies. (Or you can get them another time, your coupon for those freebies is usually good for a few months).
So if you want to use them for the Big Game and spend your $25 gift card on some chicken wings, beer or other SuperBowl essentials, that's totally doable too!