12 Pack Kleenex Instant Gel Hand Sanitizer $16 @ Amazon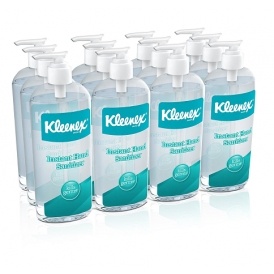 What every mom wants is less germs floating around and right now you can score this 12 pack of Kleenex hand sanitizer for just $16 that is just $1.33 a bottle these go for $4 a bottle everywhere else!
These would be perfect for schools, offices, and more. You can even shove one in your car, purse, hubby's car, kitchen and stock up for the ultimate supply.
I love stocking up and when it comes to hand sanitizer I cant get enough. The kids have a small one in their book bag, we have some in the cars just everywhere you look we have it.
I love living a healthy lifestyle and these make the germ battle so much easier as they kill 99.9% of germs in just 15 seconds. With the help of sanitizer I can keep the germs out and the healthyness in.
These would also be perfect for refills for the smaller bottles. Or to give out as donations to schools, hospitals, homeless shelters, animal shelter and more. No matter what I decide this is just to good of a deal for me to pass up.
These ship free with Amazon prime, if you are not a prime member just bump up your order to $35+ and you can still score these with free shipping.