8 Piece Bed-In-A-Bag Sets $40 @ Macy's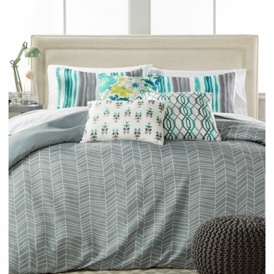 Quick! Today only at Macy's you can score Select Bed-in-a-Bag Sets in any size (Twin thru California King) for just $39.99!
They're regularly $100! Plus, since all orders of $25 or more ship for free, they all qualify for free shipping!
I don't know about you but after all the holiday madness all I want to do is sleep. Like literally, hibernate! And nothing would make that wish better than brand new bedding to enjoy it in. (Well, that and actually having the ability to sleep in longer than the kids but, hey, you know, #momlife and all).
There are lots of sets to choose from and with them being available in every size including Twin, Full, Queen, King and even California King, it won't be hard to find a new set for every bed in the house. So you can freshen up the rooms and start the new year off right.
Most of these sets are 8-piece ensembles but there are also some 5, 6 and even 9 piece ensembles in there for the same $39.99 price as well! (And those extra accent pillows alone usually cost $40 if you buy them separately)!
There are over 110 sets here so take enough time to browse them...but not too much time so that you miss out on them because like I said, this deal is today only!