Puj PhillUp Hangable Kid Cups $9 @ Amazon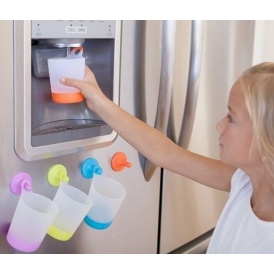 Do your kiddos go through tons and tons (possibly thousands) of dirty cups throughout the day? Yup! We all do.
The solution? These genius little hangable cups called "Puj PhillUp" that are seriously an awesome way to fix this problem!
For just $9 you can score two, or toggle to the 4 pack that has a bunch more colors that's on sale for $29.99.
These cups are simple, easy to set up and the kids love them. We always have a bunch of kids running around our house, so everyone having their own cup and their on spot where it hangs is just really handy.
Included you'll find an adhesive hook that you can hang on a bunch of surfaces (glass, metal, tile and fiber glass) and the best part is it leaves no yucky residue when you take it off. Kids just pop on their cups and off they go.
Such a cool solution to a problem we all face. Plus it gives the kids a little responsibly to keep track of their cup and hook!