4 Pack Muffin Tops Reusable Baking Cups $4.85 @ eBay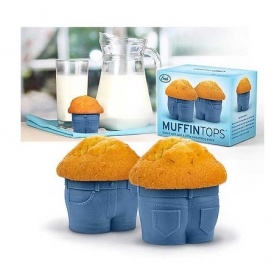 Enough of the body shaming already! It's time we celebrate the muffin top and since Ive been dieting for awhile now these will be the perfect treat for my cheat days.
Plus I just snagged a set of them for just $4.85! They are funny, extremely cute and will be perfect for any get together.
We've all seen this look before, but not like this. These will take my cupcakes over the top literally.

But why stop with cupcakes? These would be super cute with muffins, cornbread, rolls and more.
Plus they come as a set of 4 perfect for all 4 of us. Simply pour in the batter and as they bake they make a bulge right in the middle to make these pants cupcake holders as adorable as can be.
As if these arent sweet enough they ship free! Be the next laugh at the party with these adorable cupcake liners.