Kalorik 2-in-1 Oil & Vinegar Mister $9 @ Staples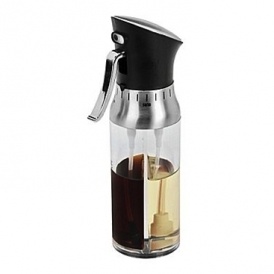 These are so great to have in the kitchen or office! Head over to Staples where they've got this Kalorik 2-in-1 Oil & Vinegar Mister back for just $8.99! It's regularly $41!
If your oil & vinegar dressing and want a better way to avoid having too much and busting your calories for the day or just want an easier way to get a good mix of both in your salad, this is the way to go!

I love this gadget so much - especially during the summer months when we're eating alot of fresh salads and veggies. It's perfect to cover your whole dish without the need of mixing or shaking or tossing.

This is especially great if you're trying to watch your calories. It's so easy to overuse dressing and end up with a few hundred more calories than you expected. It also can switch from mist to dash so you can adjust how you're dispensing it based on what you're cooking or eating.

And it's a great gadget to keep at the office too. I bring salads to work all the time or grab one from a restaurant nearby. Now I don't have to worry about little containers for dressing or limiting myself to either overshooting my calories or getting a blah dressing that's low-cal.

You can use any of your favorite oils and vinegar so you can have a nice raspberry vinaigrette on-hand ready to spray. Or whatever flavors you like.

If you are a Staples Rewards Member you can earn cash back toward future purchases and get free shipping on orders of $14.99 or more. Otherwise, you can just choose free in-store pickup as well.