Car Seat Back Organizer with Built-In Cooler $9 @ Amazon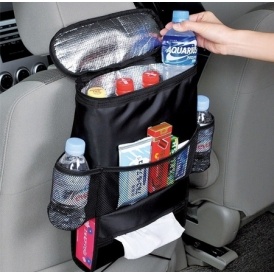 Here's a clever gadget for the car! Right now at Amazon you can score this Autoark Car Seat Back Organizer with Built-In Cooler for just $9! Plus get it shipped free with your Prime membership, or a qualifying order.
I love that this thing has a built-in cooler too! So I can keep the kids drinks or snacks cool while we're on the road. Plus it has compartments for all of the other travel essentials and even a tissue/wipes dispenser for easy clean-up.
With kids it's easy to get swept up in a whirlwind of toys, accessories, gadgets, and clothing they outgrow super fast. So I'm all about staying organized and getting clutter-free this year to find my sanity. So at this price I'm thinking of buying a second one to have one for each seat!
AutoArk and Swinsonbox are the Amazon are the Prime eligible merchants on this item. You can also get it for a buck cheaper through Seven Flowers with free shipping but it will be coming from China and may take a while to get to you. (For $1 more I think I'll go with one of the Amazon Prime retailers instead).