Aviva Ahh-Qua Bar Pool Float Only $39 @ Amazon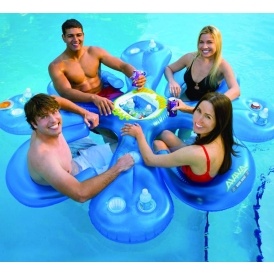 This is one of those things that looks too good to be true. A float with detachable chairs (that float) 12 cup holders and a little cooler spot in the middle to hold drinks?
Shut up and take my money! This thing looks like hours of fun at the pool with friends, I really think I'd use this so many time this summer!
Is there anything better than relaxing in the pool with a drink? I always need to have a float with a cup holder just because it makes laying out that much better, but having a cooler too? Yes please.
There's TWELVE cup holders in this float and even a handy spot to hold drinks in the middle. The best part is not having to get out of the pool every time you need a refill. Plus there are four chairs so everyone can hang.
Yup, I'm going to call this float mom island, it's the good. Grab one at this price before they're gone. As you know Amazon prices are known to fluctuate.