Pet Waterproof Heating Pad $10.99 @ Amazon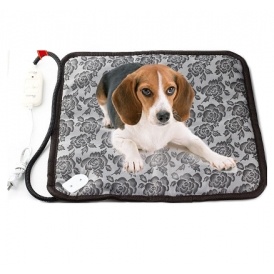 I bought one of these when my dog had babies and they loved it so much they would all curl right up on it. After that my dog got arthritis and this heating pad has gave her relief since.
This mat is wonderful and today its priced at 50% off when you use promo code VO6JDMOL bringing down the total to just $10.99! You cant beat this.
I absolutely love these pads, my dog had babies and I was able to keep them in my room with out having to worry about the a/c chilling them.
My other dog is 9 and has a really bad case of arthritis the vet recommended heat and thats when it hit me I had the perfect pad at home. I place it on her bed and she lays right there on it. She couldn't be happier and it really helps.
This pad comes in your choice of colors and has a remote that turns the degrees up and down. It plugs right into your wall and has a bite resistant cord. They thought of it all with this mat and I couldnt love it any more.
This will ship free with Amazon prime membership. If you are not a prime member boot your order up to $35+ and you can score free shipping.