REI Sale Calendar: A Handy Savings Guide (2018)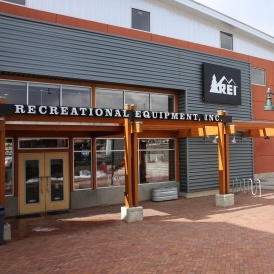 With how often REI sales come and go we figured why not make one place with all the sale dates, upcoming sales and current offers to make things easy?
That's why we made this handy REI Sales Calendar so you'll know when the next REI sales and when the best ones are going on.
We'll be covering current sales and promos closer to the top and breakdown the bigger sale days down further so you can come back and check for sales.
REI Garage Sale Tip: If you're looking for REI Garage sale dates enter your zip code here to see when the next one is happening by you.
Current REI Sales & Offers
REI Sale Schedule
Don't forget REI sends out a rare 15% coupon when you sign up for emails, it just takes seconds but can save you a bunch on your purchase.
REI Fall/Labor Day Sale — LIVE NOW
REI Garage Sale — CHECK HERE
REI Summer Sale + Clearance — June/July
REI Member Sales — Dates vary (March, October, May).
REI Anniversary Sale — Dates vary (no pattern can be any month).
REI Friends and Family Sale — Dates vary (expect sales in May).
REI Backpack Sale — Dates vary
REI Memorial Day Sale — May 29-31st
REI July 4th Summer Sale — July 4th
REI Black Friday Sale — November 24th
REI Holiday Clearance Sale — After Christmas
REI Sale Calendar
With how often REI has sales we'll be rounding up sale dates for bigger sale days below as well as breaking down previous sale dates when available and what to expect.
REI Labor Day Sale
The REI Labor Day Sale is now live, score tons of deals site-wide right now at REI.
To make things easier, we'll round up the top deals right here for easy grabbing:
From the end of August until early September the Labor Day sale at REI is one you'll want to keep tabs on. The REI Labor Day deals are some of the top deals of the year and it's as good if not better than what you can expect from REI on Black Friday.
During the Labor Day Sale you can expect something like 40% off site-wide and compared to the coupons that get released on other sale days, this is an awesome coupon!
Not just that either REI Labor Day deals are site-wide and they all get featured on the front page with these like 20% off sunglasses, up to 30% off some brands, huge markdowns on tents and backpacks and a ton of other deals we'll be covering live.
REI Garage Sales
How to find the next Garage Sale at REI:
Go here and check when the next Garage Sale is happening by you.
Garage sales all depend on stock levels on returned items, the dates are random, check back for garage sales near you from time to time so you don't miss out.
For one day only, expect epic deals during the REI Garage Sale. Each year REI hosts a bunch of garage sales where you can score awesome deals on discounted gear.
The items are returned items so you can expect deep discounts but finding Garage sales is no easy task, REI doesn't release garage sale dates per say but you can keep up with the sale events page so you won't miss a sale that's close-by.
These are some of the best REI sales of the entire year and the sale is available for members only, where you can sign up for just $20 for a lifetime membership.
These events happen 4-6 times a year and the dates vary. There isn't anything publicly announced about these but if we get a better process for getting the dates we'll let you know.
REI Member 20% Off Coupon Sales

Sale Dates: Dates vary (March, October, May).
Previous Dates: 11/10/2017
While the sale dates vary, you may be on the hunt for when the next REI Member 20% off sale is going on and since they offer these codes throughout the year we're covering them.
In years past we can expect around three of these 20% off coupon sales so expect the same this year. There isn't any kind of pattern to these sales but we'll be covering them live when the sales become available.
REI July 4th Sale
During the REI July 4th sale you'll be able to score deals site-wide at REI usually you can find the best deals during the 4th of July sale right on the front page.
In years past they offered items 40% off so don't expect 4th of July deals at REI to be deals to overlook, these can be some of the best snags of the year when compared to other sales.
REI Summer + Clearance Sale
Sale Dates: June/early July
Expect some nice savings during the Summer Clearance sale at REI this year. Usually during this sale which goes live in June and July you'll score huge clearance markdowns site-wide with clearance price drops that are some of the best of the entire year.
REI Friends and Family Sale
Sale Dates: Dates vary (expect sales in May).
Previous Sale Dates: 4/27/18
Usually the Friends and Family sale at REI is one of the top sales of the year. As far as sale dates go you can expect these sales to happen in May, but we'll be on the hunt if that changes.
During these sales you can expect coupons for 20-25% off your purchase to be released and the dates these are given away are totally random and not a pattern.
Friends and Family coupons give you percent off your entire purchase over a minimum so expect something like 25% off your purchase of $200 or more.
To get these coupons REI employees give these coupons to their friends and family and since these are 25% off multiple items they get to be in high demand. Also included in these coupons is 15% off for bikes, boats and a few other items.
REI Anniversary Sale
Sale Dates: May
Previous Sale Dates: 5/18/18
Anniversary sales at REI are one of the bigger sales of the year that usually happen in May.
During REI Anniversary sales you can expect up to 20% off coupon to get released during this sale which can make for some huge savings on your purchase.
During this sale we'll be rounding up the best deals that you can score and the best bargains site-wide. We usually do a roundup closer to the top for easy deal grabbing.
REI Black Friday
If you're wondering about savings at REI on Black Friday, look no further. While REI has participated in Black Friday in previous years the last couple they haven't.
The good news is instead of participating they closed stores in an effort to #OptOutside which we just love. In previous years they've offered 50% off during the Black Friday sale so we will be keeping tabs on REI in case that changes.
REI Winter Sale
Sale Dates: November
Previous Sale Dates: 11/10/2017
While we won't expect a huge sale for Black Friday at REI, expect this instead.
During the REI Winter Sale you can score huge deals in November and December right before Christmas gets here. The Winter Sale is one of the top sales of the year and it makes up for not having a huge Black Friday sale because huge savings can be scored.
REI Holiday Clearance Sale
Sale Dates: December 25th
Previous Sale Dates: 12/25/2017
After Christmas at REI expect holiday clearance to get marked down. This sale happens the day after Christmas and you can expect some nice markdowns when shopping at REI.
When does REI have sales?
REI has both planned sales and member sales that happen all throughout the year. Since the member sales can sometimes be spontaneous we keep track of all the sales as they go live and try and keep track of previous sales so you know when they may be coming.
Some of the bigger sales are the Labor Day Sale which happens in late August, the Anniversary sale that happens in May, and the Winter sale which starts in November.
Does REI have a Black Friday sale?
In years past they have but for the last few years they've instead decided to encourage shoppers to #OptOutside instead. The Labor Day sale and the Winter sale are two sale days that are up there with Black Friday however where you can score some can't-miss REI deals.
---
Your turn: What is your favorite REI sale of the year? We'd love to hear what you saved on while scoring deals at REI! Make sure you let us know in the comments!