Batman Creative Fidget Spinner Anti-stress Toy $1 @ Wish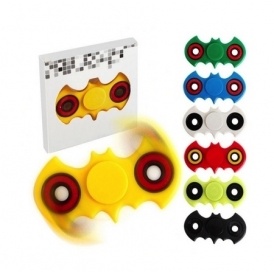 Have you heard of the fidget spinner yet? It's like a fidget stone only way cooler. They're really becoming a hit and selling out all over.
Right now you can get this Batman Creative Fidget Spinner Anti-stress Toy in your choice of 7 colors for just $1 and $1 shipping at Wish!
Originally designed for autism and stress-relief therapy, these fidget spinners are really getting a lot of attention. The kids love them and they really do help for anyone with anxiety, stress, autism, etc.

Since it's shipping from Wish you'll want to allow a couple weeks for delivery so order now to have in time for summer play or birthdays that you have coming up yet this year.
You can choose from Yellow, Light Yellow, Black, Blue, Green, Red, or White. And for this price you could grab a few to stow away for long road trips, vacation, waiting rooms, etc. Even keep one for yourself in the office.