Whenever we're looking to grab a cheap bite, Sonic Happy Hour is a safe bet.
Not only do they have yummy daily specials that are some of my favorites but also during Happy Hour at Sonic, score half off drinks and slushes and even ¢99 cent corn dogs when you go.
With how much we love Happy Hour at Sonic, we figured why not make a round up of the best values during Happy Hour and break down the entire Happy Hour menu, Happy Hour time at Sonic and also answer any questions you might have about going to grab a bite during Happy Hour Sonic.
We'll also be sharing the best value items you can score at Happy Hour Sonic even if the deals aren't part of the Happy Hour's menu as some of Sonic's daily deals are great ways to save money.
What Is Sonic Happy Hour?
Sonic Happy Hour is every day at Sonic from 2-4 pm and it's pretty much the best time to stop by Sonic to grab a bite as you'll score sweet daily happy hour specials like half off slushes, limeades, teas and sodas.
The best part? If you miss out on Sonic Happy Hour you can always download the Sonic App where once you've downloaded the app on your phone, you can get the Sonic Happy Hour menu at any time of the day!

When Is Happy Hour at Sonic?

Sonic Happy Hour is every day of the week from 2:00 pm — 4:00 pm.
Whenever we stop we do so after the kids get done school. Happy Hour is the perfect spot in the summer for a cool drink and some homework. The prices are cheap and the daily deals are some of the best.
Plus since it's every day of the week anytime we're in the mood for Sonic we just go during Happy Hour that way we score half off drinks for our meals which makes for a nice savings whenever we get Sonic.
Sonic Happy Hour Times

Before we get into the best value items on Sonic Happy Hour's menu, here's a look at Sonic Happy Hour 2019 times so you'll always know the best times to grab a bite at Sonic where you can save the most:
| | |
| --- | --- |
| Sunday | 2 PM — 4 PM |
| Monday | 2 PM — 4 PM |
| Tuesday | 2 PM — 4 PM |
| Wednesday | 2 PM — 4 PM |
| Thursday | 2 PM — 4 PM |
| Friday | 2 PM — 4 PM |
| Saturday | 2 PM — 4 PM |
Sonic Happy Hour Menu

The Sonic Happy Hour Menu included frozen drinks like limeades and slushes and also corn dogs are only a buck. The best part is pretty much all drinks (except shakes) are half off during Happy Hour.
| | | |
| --- | --- | --- |
| Happy Hour Item | Regular Price | Happy Hour Price |
| Limeades | $2.59 | $1.30 |
| Real Fruit Slushes | $2.99 | $1.50 |
| Corn Dogs | $1.29 | $1 |
| Candy Slushes | $2.49 | $1.25 |
| Iced Teas | $2.19 | $1.10 |
| Soft Drinks | $2.19 | $1.10 |
| Sonic Splash | $2.19 | $1.10 |
Sonic Daily Specials
It's not just Happy Hour menu items that are a great value at Sonic, there's a bunch more you won't want to miss. With most of the items on the Happy Hour menu being drinks, you'll want to check out Sonic's specials that are available everyday, all day for more ways to save. Here's a closer look at the best value items at Sonic.
| | |
| --- | --- |
| Jr. Breakfast Burrito | $1.19 |
| Jr. Deluxe Burger | $1.39 |
| Jr. Deluxe Cheeseburger | $1.69 |
| Jr. Double Cheeseburger | $1.99 |
| Chicken Strip Sandwich | $1.49 |
| Grilled Cheese | $1.49 |
| Tots | $1.19 |
| Fries | $1.19 |
| Vanilla Cone | $1 |
| Real Ice Cream Sundae | $1.99 |
More Sonic Deals We Love
It's not just Happy Hour where you can get the best deals at Sonic. Here's some of our favorite deals you can grab when getting a bite at Sonic, keep in mind some of these are specific days of the week.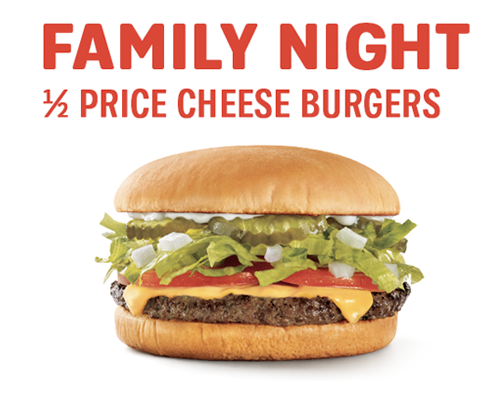 Family Night
1/2 Price Cheeseburgers
Every Tuesday Night at Sonic
5pm - Close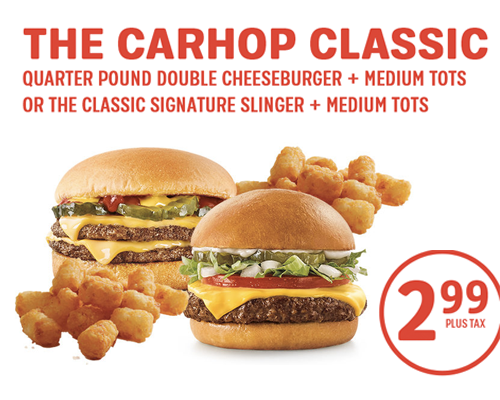 The Carhop Classic — $2.99
Quarter Pound Double Cheeseburger + Medium Tots OR
The Classic Signature Slinger + Medium Tots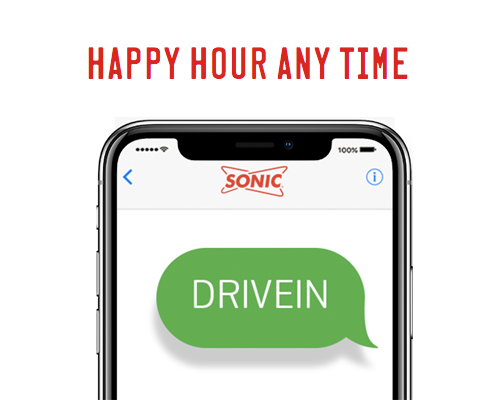 Happy Hour Anytime
Get half price drinks and slushes when you order ahead in the SONIC app!
Available on both iOS and Android
What's On The Sonic Happy Hour Menu?
The current Sonic Happy Hour Menu includes half off those yummy slushes the kids love (including Limeades) as well as 99¢ corn dogs and also half off sodas and teas as well.
There's also the Sonic Daily Specials which are everyday values, but since most of the items are drinks on Sonic's Happy Hour menu, we usually grab some grub from there to maximize our savings.
Are Shakes Half Off During Happy Hour?
Half price shakes at Sonic are tricky, while they aren't available year round we're keeping track.
This year Sonic offered half off shakes during 'Sonic Nights' but this promotion ended on Labor Day. We're expecting Sonic half price shakes to return in 2019.
During the month of December Sonic offers half priced shakes if you order ahead.
That's right, just order ahead your milkshake and you'll be able to grab one half off.
Sonic Happy Hour Tips
Check the Sonic Deals Page: Check out the Sonic Deals page where you can score some sweet Sonic deals on burgers, drinks and also milkshakes as they become available. There are usually a ton of deals that pair well here with the Sonic Happy hour menu.
Install the Sonic App for Freebies: Just install the Sonic App on your phone and you'll score a free drink just for downloading the stinking app! That's awesome. Plus when you order through the app you can have Happy Hour at whatever time you'd like!
Sign up for Sonic Text Alerts: The last tip would be to sign up for Sonic text messages to be the first to know about drink + milkshake specials when they become available.
---
Related Buyer's Guides and MomDeals' Lists:
Your turn: Do you love the Sonic Happy Hour menu? If so what's some of your favorite treats to score during Sonic Happy Hour? Which items do you think are the best value? We'd love to hear!
Sign up for our newsletter
Get more deals from momdeals with our daily newsletter