Have you heard about the awesome Dish Welcome Pack?
If you're trying to cut your cable bill Dish's Welcome Package is absolutely an option you must consider. It's the cheapest Dish package and has a ton of channels.
The only catch is:
Many don't know about it, and the ones that do have no idea how to get it.
Many know it as the cheapest Dish package so a few have it unknowingly. But for those that don't we got you covered, we'll be breaking it all down here.
If you want to be sure you're getting the cheapest dish package for current customers keep reading, we'll be breaking down how cheap it is, what channels are in the welcome pack and if it's the same at the $19.99 package that many have come to know from Dish.
Dish Welcome Pack
If you're looking for a way to save on your tv budget, it's no mystery that lots of households are turning to streaming and al a cart tv channel services.
But one of the best ways to save on your cable is actually to start with a 'starter pack' offered by companies like Dish. An example of this that's sort of had a new cult following is the Welcome Pack that Dish offers which gets you a great list of channels at a decent price.
The Dish Welcome Pack offers over 40 essential channels (see Dish welcome channels full list below) for just $22.99 monthly, plus local channels!
The only catch is the Welcome Pack can only be ordered by calling Dish. There is no option to purchase it online so you'll have to call 1-800-333-DISH and ask them for it.

Dish Welcome Pack Channels

So what do you get with the Welcome Pack Channels? Take a look at this complete Dish Welcome Pack channel list...

3 Angels Broadcasting Network (3ABN)
ALMA Vision Hispanic Network (ALMA)
AngelOne (ANGEL)
AXS TV HD (AXS)
Baby First (BABY1)
Beaut (BEAUT)
Shepherd's Chapel Network (BIBLE)
Bloomberg Television HD (BITV)
Boomerang (BOOM)
Buzzr (BUZZR)
Believer's Voice of Victory Network (BVOVN)
BYU Television (BYUTV)
CGTN Español SD (CGTNE)
CGTN News (CGTNN)
CHPK
Comedy Central HD (CMDY)
Country Music Television HD (CMT)
Craft
C-Span (CSPAN)
C-Span (CSPN2)
CSPRT
Christian Television Network (CTN)
Dish Info 101 (D101)
Deal (DEAL)
Discovery Family Channel HD (DISCF)
Daystar (DYSTR)
Enlace (ENLC)
Epic (EPIC)
Evine Live (EVINE)
Eternal World Television Network (EWTN)
Faith USA (FAITH)
FETV (FETV)
FLXPK
Food Network HD (FOOD)
Free Speech TV (FSTV)
Gem Shopping Network (GEMS)
Grit (GRIT)
Home and Garden Television HD (HGTV)
History HD (HIST)
HITN (HITN)
Hallmark Channel HD (HLMRK)
Hallmark Movies and Mysteries HD (HMM)
HOPR
Home Shopping Network (HSN)
Home Shopping Network 2 (HSN2)
In-Country Television (ICTV)
Impact Network (IMPCT)
Insp (INSP)
Jewelry Television (JTV)
Justice (JUST)
Kids and Teens Television (KTV)
Laff TV (LAFF)Link Television (LINK)
Satellite Response Network (MALL)
MSNBC HD (MSNBC)
Music Television 2 (MTV2)
NASA (NASA)
PPV Pay Per View Events (ORDER)
Oxygen (OXYGN)
Pop HD (POPHD)
Pursuit (PRST)
QVC
QVC2Real (REAL)
Russia Today (RT)
Sale (SALE)
Sonlife Broadcasting Network (SBN)
SHAHD
SHPLC
SMART
Dish Studio HD (STDIO)
Trinity Broadcasting Network (TBN)
Turner Broadcasting System (TBS)
V-Me (V-ME)
VALU
VCAFR
Women's Entertainment HD (WE)
Weather Channel HD (WEATH)WINTR
YouTV (YOUTV)
You can also take a second to compare this Welcome Pack channel guide lineup with the other Dish Packages to see what works best for your household.
Dish Packages Comparison Chart
Take a look at this easy to use Dish package comparison where you can get a side-by-side of all the packages offered by Dish, their included channel lineups, and their prices.

The only catch here is the welcome pack has risen since this chart was made. For a full updated comparison chart follow the link below.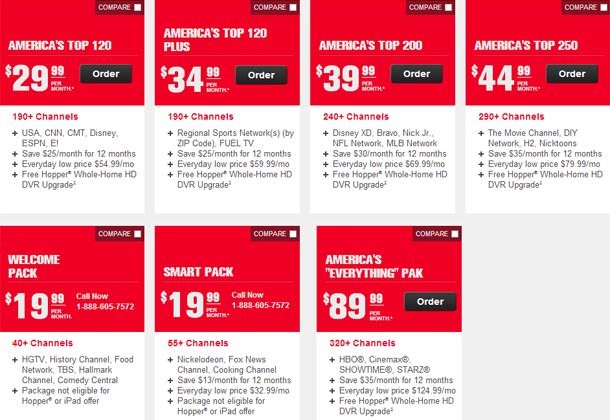 Your turn: Do you plan on trying the Dish Welcome Pack if so what service are you switching from? We'd love to hear how you plan to save!
---
Related Buyer's Guides and MomDeals' Lists: