Wish Return Policy: 7 Things You Should Know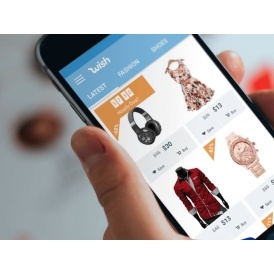 So you went ahead and ordered something from the Wish app and you're looking to return it. You're not the only one.
We've all been there.
We've heard hundreds of stories of readers stumbling on the Wish app by either finding a Wish Coupon or seeing a sweet deal only to want to return what they ordered.
The Wish return policy can be confusing and frustrating so we thought it deserved it's own post to breaking it all down.
The Wish return policy isn't known to be very customer friendly, but understanding it is the key to getting your return on track.
Something you'll want to know with Wish is that everything is being shipped from overseas so it can be tricky to get a return but hang in there we'll cover the basics.
What is the Wish return policy?
Wish offers what they call a 5 star guarantee where any item within 30 days of delivery may be returned. To start your return you'll want to go to your order history and all you have to do is go to the order history page to start your return.
Once your on the Order History page choose the item in question and click on customer support to get in contact with a customer support rep.
They strive to respond to all requests within 72 hours so if you do not hear back within that time, send another message, it may be worth it.
How many days do I have to return my item from Wish?
With Wish, you can return any order within 30 days of delivery.
Just go to your order history and click the item you wish to return and click Customer Support to contact a rep about a return for your item.
As long as you're in the 30 day window you should be fine with a return.
How will I receive my refund from Wish?
How you paid is how you'll get your refund.
Refunds are automatically processed back to the payment you used when you ordered your item.
You can expect your refund within 14 business days. If you're having trouble locating the refund Wish sends you, contact your payment provider for further info just in case the problem is on your end, otherwise get back in contact with Wish.
Does Wish reimburse shipping costs?
No, unfortunately they don't.
And we wish they did really.
The policy states more specifically Wish does not provide reimbursement for costs related to return shipping, customs fees, taxes, postal fees or VAT related costs.
Can I cancel my order if it hasn't shipped?
Yes, cancelling an order is easy too.
Go to your order history where you'll be able to cancel any order before it's been shipped.
I'm not happy and my order has already shipped, what do I do?
Contact customer service and expect a reply within 72 hours.
If you don't get a response within that time don't hesitate to contact them again.
A common problem with Wish is just ordering something you hadn't (we've all been there) take a second to contact support in this case and if you're within 72 hours you should be fine.
How do promotions and gift cards work?
Go to the rewards section of your account to view the balance of gift cards, they are automatically applied to your next order if there is a balance.
Promotions are limited time offers and not valid forever, once they've expired they can't be used. Another thing to note is that gift cards with Wish are one-time use only so they cannot be credited back to your once you've used your Wish gift card.
---
Related Buyer's Guides and MomDeals' Lists:
Your turn: We know you may be frustrated with the Wish return policy, but your feedback and helping others is important. If you have a question or have feedback share it below to help others!