Have you ever spent hoursssss browsing Netflix only to end up not even picking a movie?
You're not the only one to experience what we like to call 'ONS' or 'Overwhelming Netflix Selection'.
But guess what? There's actually a totally new awesome (and kind of sneaky) way to find awesome movies and tv shows to watch thanks to these newly leaked Secret Netflix Codes....
Ever want to watch something totally new that isn't being recommended to you?
Let's say... Feel-good Children & Family Movies from the 1980s (secret code #4355) a real secret Netflix category that most wouldn't even know existed before today.

Think of it as a Netflix secret menu, for finding movies you wouldn't regularly be in the mood for, the only drawback is you can only watch this way in your browser as far as we know.
These secret codes (also called genre codes) are part of the Netflix app and use a super scientific algorithm for helping you find a movie based on what you've previously and regularly watch.
This algorithm then produces genre codes that can be used inside the Netflix categories list we see on our TV. This is how they organize popular categories we're used to seeing.
What's the best part?
We have our hands on the entire secret codes list that we'll be sharing below so you can watch all new hidden categories you've never even thought about watching.
And guess what?
There are thousands like them.

That's the magic of these Netflix secret category codes, they allow us to watch Netflix categories we've never seen inside our app, it's really a whole new way to find Netflix shows and movies!
How To Use Netflix Codes
Netflix uses these secret category codes (not to be confused with netflix promo codes) to organize content and help users choose the right movie based on likes, viewing history, actors, actresses and a billion more to give you a curated feel when choosing a movie.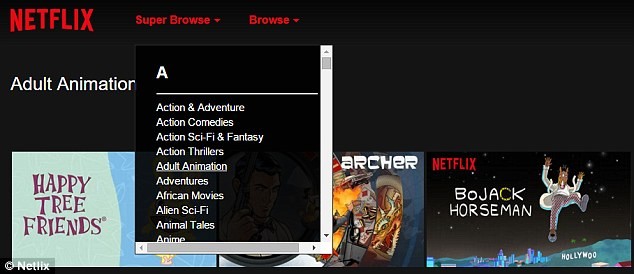 By using the category codes below you'll be able to view Netflix in an entirely new way. Now, you'll be able to find hidden movies from various sub-genres that the app wouldn't normally allow you to see, and it's super easy to do too.
Here's how it works:
To view the secret categories it's not rocket science, just select a code from the list below and enter the category code at the end of the URL like this example we made below:
Here's an example http://www.netflix.com/browse/genre/2674
This should bring you to the Netflix hidden category: Romantic Tearjerkers Based On Books
Not working? Make sure you are logged into your Netflix account from a desktop computer for the secret codes to work, we've only found this to work on computer browsers.
Here's an image breaking down where you put your code:

Here's a few more oddly specific codes to get you warmed up using secret codes:
Code 1458: Wine and beverage appreciation

Code 851: Quirky foreign action and adventure
Code 852: Independent movies about food
Code 855: Feel-good sports movies for ages 8 to 10
Netflix Codes List
Your turn: Have you given these codes a try? Let us know your favorite secret category from our list and make sure you share this tip with friends and family!
---
Related Buyer's Guides and MomDeals' Lists:
Sign up for our newsletter
Get awesome Netflix hacks and handpicked deals sent to your inbox.